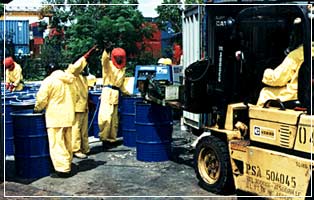 In order to respond expediently to any emergency, Chem-Solv Technologies offers an Emergency Response Service to handle not just our in-house but client's emergencies as well. This is especially important when our comprehensive toxic and hazardous waste environmentally friendly facility provides cradle-to-grave disposal service with zero liability.

Our team is well trained and equipped with all the necessary emergency equipment to handle gas and liquid leaks.

We are proud to extend this service to the Port of Singapore Authority.